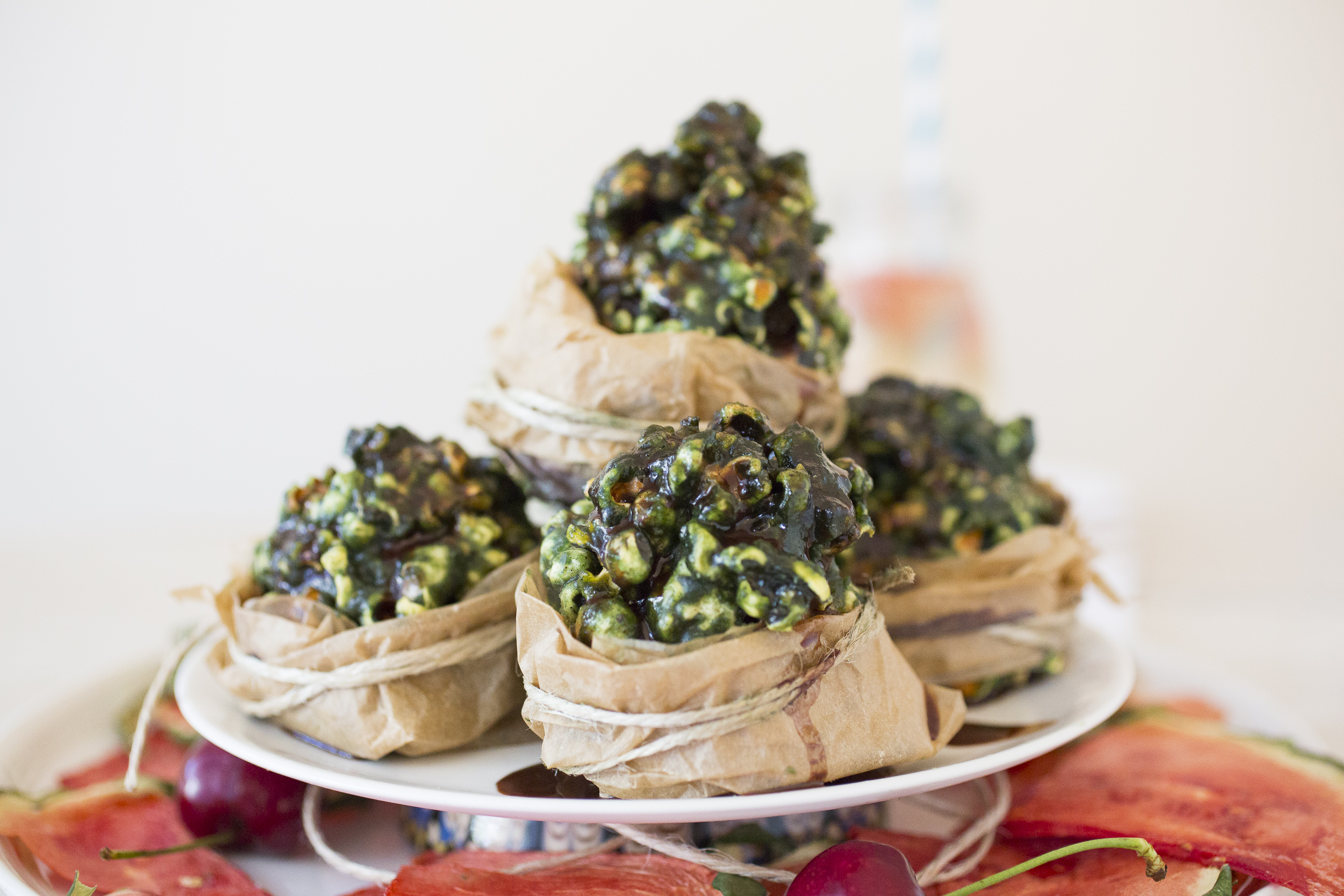 These little morsels of goodness can be created into bars (a slab if you will) or formed into balls or even mini bites with a silicone mini muffin pan.
The green comes from the Alchemy 09 Supergreens so there is anti inflammatory green goodness as a bonus.
If you don't have any Supergreens on hand you can grab some via the online store here.
There are 3 sizes to choose from the premium available in the amazing Miron Glass.
ALCHEMY SUPERGREENS POPCORN BALLS
The Goodness
2-3 teaspoons Alchemy 09 Supergreens
1/2 cup corn, for popping
1/4 cup coconut oil, for popping
1/2 cup macadamia nut butter  or any nut butter you have on hand
1/2 cup coconut butter
1/4 – 1/3 cup rice malt syrup, coconut nectar, raw honey or maple syrup
2 tablespoons coconut oil
1/3 cup coconut cream
1/2 teaspoon vanilla powder
1/2 teaspoon cinnamon, powder
50-100 grams of good quality dark chocolate
Making the Goodness
Pop the corn in the coconut oil over medium heat with lid on saucepan, be careful not to burn, then set aside.
In saucepan over low heat combine the nut butter, coconut butter, sweetener syrup, coconut oil, coconut cream, and spices.
Stir with wooden spoon or spatula until well combined and as smooth as possible (it will be textured from the butters) only using enough warmth to get the mixture loose, no warmer than blood temperature.
Mix through the Shakti's Superfood Blend®, add more if you don'tmind the taste, it makes the mix a deep dark green.
Add the popped corn to a large mixing bowl and using a silicone spatula scrape in the green mixture. At this point either use the spatula or your hands to well coat the popcorn, it will be
a little sticky and gooey.
Shape into balls or into patty cases, and refrigerate until firm.
While the bombs are setting melt the chocolate over double boiler, then drizzle over the set bombs lightly and then re-chill.
These become chewy corn not crisp, and have been a hit with
all that have tried them. Quite an unusual and fun way to get your greens into your belly, and I promise kids will love them too!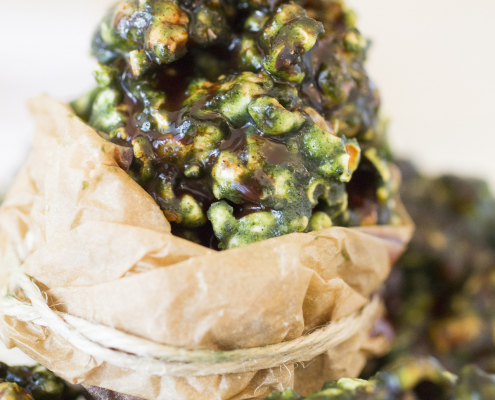 https://nourishedandnurtured.org/wp-content/uploads/2018/06/W8A7079.jpg
0
0
Shakti Grace
https://nourishedandnurtured.org/wp-content/uploads/2017/01/nn-invoice.png
Shakti Grace
2018-06-04 16:12:16
2018-06-04 16:13:38
Alchemy Supergreens Popcorn Balls